Library Board of Trustees
Kevin Garthe, President

Andrea Herrst, Vice President

Jeanne Garthe, Secretary
Joni Henretty

John Holck

Iris Schiller
Contact the board: gladlboard@gmail.com
To contact the Library Director and Staff 

Library Mission Statement
The Grand Ledge Area District Library will acquire and make readily available resources in a variety of formats, including appropriate technology, to meet the educational, recreational and informational needs of the community it serves.
Library Budget
The library operates on a July-June fiscal year. Each May the library board reviews the library budget and millage rate and holds a public hearing. In order to accomplish the library's mission the library board has approved the following budgets:
Current Fiscal Year: 2023-2024 Budget
Previous Fiscal year: 2022 2023 Budget
Library Board Meeting Schedule (2023-2024)
September 26, 2023 minutes
October 24, 2023 minutes
November 28, 2023 proposed minutes
January 23, 2024
February 27, 2024
March 26, 2024
April 23, 2024
May 28, 2024
June 25, 2024
Meetings are held in the 1931 Room (meeting room) at the library at 7:00 p.m. unless otherwise noted. Regularly scheduled meetings are subject to cancellation and/or change in the absence of a quorum or if there is no pertinent business to come before the Board.

Notice: If any person has a disability and needs accommodation to attend a Library Board meeting please call Lise Mitchell at 517-622-3550 or email at questions@gladl.org, at least seven (7) days prior to the date of the meeting.  Every effort will be made to accommodate, if possible, with lesser notice.
A public inspection copy of the Minutes of the Library Board meetings are kept in the Shipman Room.  The call number is M R 021.82 G.  If you need assistance in locating the minutes, please ask at the front desk.
Members of the public are welcome to share their comments and concerns about library-related issues with members of the Library Board at library meetings.  The Library's policy  Public Participation in Board Meetings states the procedures and rules of conduct which will facilitate a fair and orderly expression of public comments.
Past Library Board Meetings
(2022-2023)
September 27, 2022 minutes
October 25, 2022 minutes
November 22, 2022 minutes
January 24, 2023 minutes
February 28, 2023 minutes
March 28, 2023 minutes
April 25, 2023 minutes
May 30, 2023 minutes
June 27, 2023 minutes

(2021-2022)
September 28, 2021 Minutes
October 26, 2021 minutes
November 23, 2021 minutes
January 25, 2022 Minutes
February 22, 2022 — cancelled
March 22, 2022 minutes
April 26, 2022 minutes
May 24, 2022 Minutes
June 28, 2022 Minutes

(2020-2021) — Sept – March meeting were held virtually; April – June in person.
September 22, 2020 minutes
October 27, 2020 minutes
November 24, 2020 minutes
January 26, 2021 minutes
February 23, 2021 — cancelled
March 23, 2021 minutes
April 27, 2021 minutes
May 25, 2021 minutes
June 22, 2021 minutes
(2019-2020) — April, May and June 2020 meetings were held virtually via Zoom.
September 24, 2019 minutes
October 22, 2019 Minutes
November 26, 2019 minutes
January 28, 2020 minutes
February 25, 2020 — Meeting Cancelled
March 24, 2020 — Meeting Cancelled
April 28, 2020 minutes
May 26, 2020 minutes
June 23, 2020 minutes

(2018-2019)
September 25, 2018 minutes
October 23, 2018 minutes
November 27, 2018 minutes
January 22, 2019 minutes
February 26, 2019 minutes
March 26, 2019 minutes
April 23, 2019 minutes
May 28, 2019 minutes
June 25, 2019 minutes
Memorial for Board Member Joni Jeffery
Joni Lynn Jeffery, passed away June 29th, 2023 after a long battle with cancer.
She was a loving mother, Cub Scout Leader, Girl Scout Leader, friend of the library and an elected member of the Grand Ledge Area District Library Board. She enjoyed her time working as a Secretary at Potterville Elementary School as well as an Office Manager at Michigan Dyslexia Institute in Lansing, MI. She was an avid hiker and spent 28 days hiking 350 miles on the North Country Trail during the summer of 2019, one of her greatest achievements.  She was committed to literacy and helping in her community, she will always have a place in our library and our hearts.
Library Millage Vote Passes!-- August 2, 2022
The Library Board and Staff want to extend a big THANK YOU to the community for its continued support in passing the Library Millage!! More information about the millage vote can be found on at gladl.org/millage2022.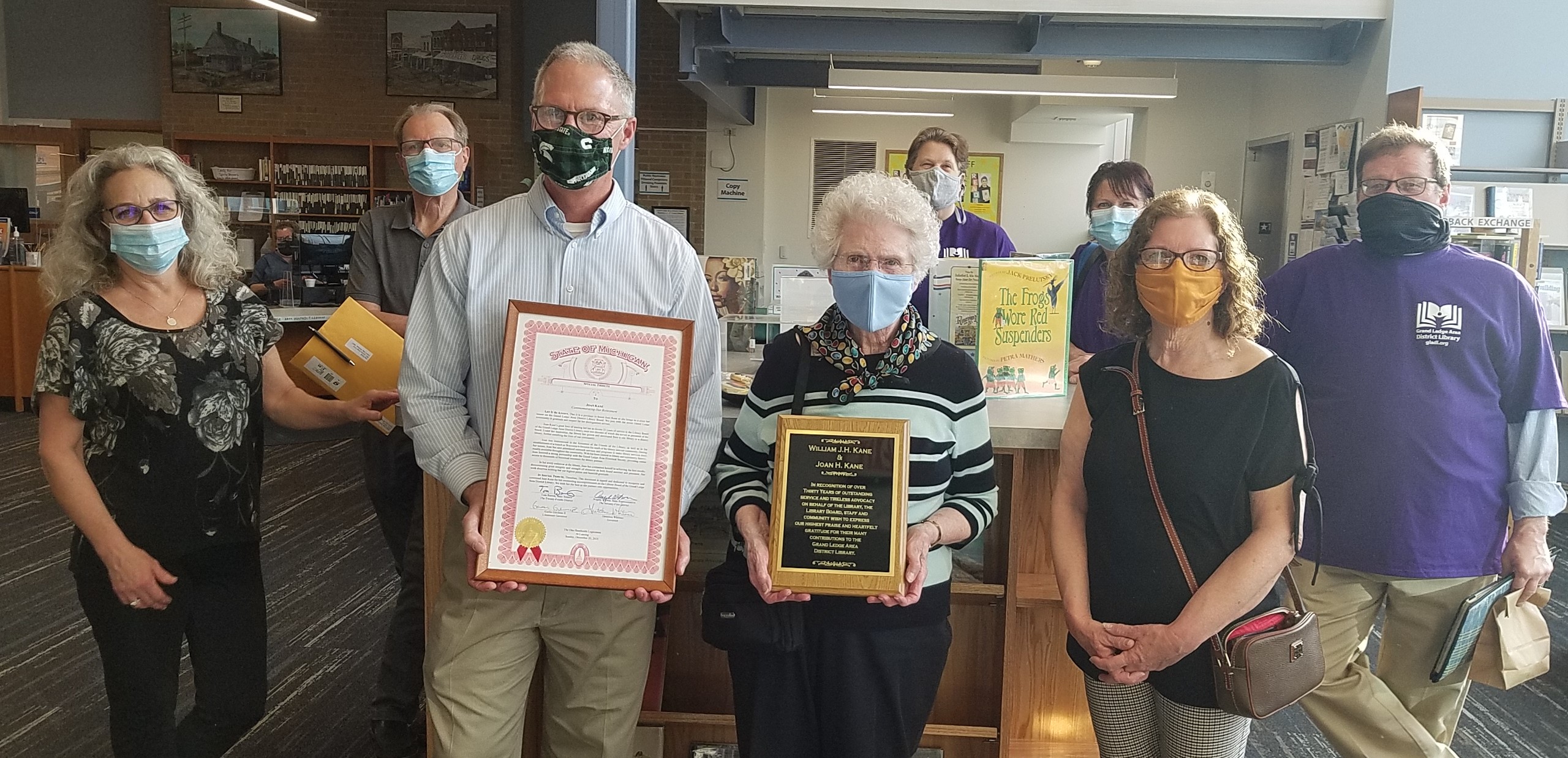 Library Board honors Bill and Joan Kane!
In recognition of over Thirty Years of outstanding service and tireless advocacy on behalf of the library, the Library Board, staff and community wish to express our highest praise and heartfelt gratitude for their many contributions to the Grand Ledge Area District Library.