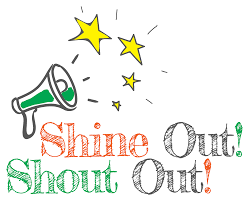 Join us in Zoom and give a Shoutout!
Join us in Zoom for the Friends of the Library Annual Meeting as we Showcase the Creativity of our Community and say THANK YOU to so many of the Great People that make our community work!
Join Zoom Meeting
https://us02web.zoom.us/j/81457323281
Meeting ID: 814 5732 3281
Dial in (1 312 626 6799)
Special bonus for those in attendance – a drawing for a Meijer Gift Card!
Decorate a bookmark, make a card or poster — Drop off your items at the Library between April 5 and April 24 and the The Friends of the Library will be delivering them to essential workers and seniors in our community to show that Grand Ledge and the Library cares!
Who are the Friends — Join the Friends Today!
They are a group of dedicated volunteers who recognize the vital importance of libraries in our community. Their efforts support the Library and its programs – both financially and with time spent volunteering.
The Friends since 2001 have contributed nearly $70,000 to the library to make the dreams of our patrons come true.
Membership in the Friends of the Library is always welcome. Please return your completed Friends Membership Application to the Library. 
Membership levels:
Seniors (60+)/Students: $5
Individuals: $10
Family: $15
Business/Organization: $50
Lifetime Individual: $100
Join the Friends today and pay for your membership online via Paypal!
The Friends of GLADL is a 501(c)(3) nonprofit organization. Your contribution is tax-deductible to the extent allowed by law. No goods or services were provided in exchange for your generous financial donation.
Friends Board:
Robin Barfoot, President
John Clark, Secretary
Iris Schiller, Treasurer
Ryan Maciejewski
Pat Dingler
Call for Volunteers – We Need You!
Event Assistant
Essential Duties and Responsibilities: Assist library staff to lead programs by taking pictures at events; preparing craft materials; greet and warmly welcome attendees; distribute program information; orient patrons to the library or event site by pointing out locations of restrooms, water fountain, handout table, etc.; be available to answer questions and direct patrons as needed.
Skills and Experience: All that is required is a warm, outgoing personality, ability to anticipate and react to needs of patrons and staff, and a desire to make people comfortable in the library. Events typically take place on weekday afternoon or evenings. Some weekend events may need volunteers.
Homebound Delivery Driver
Essential Duties and Responsibilities: Deliver and pick up library items as requested by homebound patrons. Work with library staff and patrons to schedule deliveries and pickups. While on the delivery, volunteers will talk with patrons about upcoming library programs and assist homebound patron with program paperwork.
Skills and Experience: Volunteer must possess valid driver's license and be able to use their own vehicle to make deliveries. The position requires the ability to carry/lift medium weights of library materials. The ideal volunteer will exhibit a pleasant, courteous manner, and have a sincere desire to help people who cannot come into the library access and use materials. Excellent communication skills are a must.
Adopt-a-shelf Volunteer
Essential Duties and Responsibilities: Adopt-a-Shelf workers agree to monitor a section of the Library's shelving to keep books, tapes, magazines or videos/DVDs in order. This is a vital part of making the materials readily available for patron requests. Since so many people browse the collection and routinely move items from their correct shelf locations, the shelves need constant reorganization and monitoring. The only skills required are an attention to detail and some simple housekeeping skills. Once you have been trained as an Adopt-a-Shelf volunteer, you can monitor your assigned section as frequently as seems warranted and at your own scheduling convenience. This is the ideal job for a volunteer who cannot commit to a set schedule and needs extremely flexible volunteer hours.
Skills and Experience: Willingness to spend two self-scheduled hours a week monitoring a section of the Library's shelving to keep books, tapes, magazines or videos/DVDs in order. Knowledge of the alphabet is essential. Library staff will train the right volunteers in use of the Dewey Decimal System. Volunteer may be required to lift light to medium weights, e.g. books and audio-visual materials.
Please Note: All Volunteers must be at least 13 years old or entering 7th grade.  Volunteers must complete an application, participate in an orientation, and follow all Library and State guidelines.  See Get Involved for more information.
Past Meetings
2020 Annual Meeting — Virtual Earth Day Workshop on Oak Leaf Wilt
Saturday, April 18
The Friends were proud to present Dr. David Roberts (retired) Michigan State University, also know as the "Plant Doctor".  Dr. Roberts gave an informative workshop on Oak Wilt – a new danger to our trees that every homeowner and gardener needs to know more about.  Oak Wilt disease is killing oak trees in Michigan, and the problem is getting worse.   Attendees learned how to protect their trees from oak wilt and what to do if their trees are already affected.
For more information about Oak Wilt and Dr. Roberts      Oak Wilt Part 2    Oak Wilt Part 3
During the business meeting portion of the program, the Friends have agreed to continue their support for our Summer Reading Program  and they will be helping the library in our outreach efforts to support libary services effected by COVID-19.  More information to follow.
Thank you again to Dr. Robert, the Friends and all our library supporters!
2019 Annual Meeting — Come Glass Painting with the Friends
Wednesday, April 24, 5:30 p.m.
Thanks again to the Friends for sponsoring this fun event and providing the opportunity to paint a beautiful keepsake.  Patrons of all ages enjoyed a great time and learned a bit about the good work of the Friends.  Among those attending the 2019 Friends Annual Meeting were Friends President, Robin Barfoot, Library Board President Joan Kane and Secretary Jeanne Garthe, and Friends Board member Barb Lehman, Treasurer Iris Schiller, and Secretary John Clark.  The Friends have agreed to continue their support for our Summer Reading Program (THANK YOU!) and their generous support helps us to maintain our local history online platform.  Check out your roots today!
2018 Annual Meeting — Stepping Stones with the Friends
Tuesday, April 25, 4:30-6:30pm
Young and old had a great time making stepping stones.  The creativity shown was amazing.  We held a short business meeting and heard updates about the library and how to get involved with the Friends.  Check out our photo album — lots of smiles!
2017 Annual Meeting — Escape from the Stacks 
Saturday, April 22, 6:30pm — A great time was had by all!
A brief business meeting started the evening with the receiving of reports, authorizing the Friends support for the Library's Summer Reading Program and Local History Digital Project, and election of officers.  A dedicated crew of sleuths adjourned to the 1931 Room and solved the Spyder Heist and enjoyed treats as well.  They have been sworn to secrecy as to how they met this challenge so well, but the library is glad to know that we can call on them again in the future!