Ukulele
Our thanks to our donor Music is the Foundation for making our lending Ukuleles possible!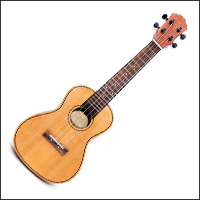 Checkout: 2 weeks by patron who is 18 years or older
Ukuleles are fun to play and it is one of the easiest instruments to get started with.  After just learning a few chords you will be able to play many different songs.  Our kits include:
In addition we have library resources to help you learn — from quick lesson books to books for kids to online materials.  Give it a try and start making music today.
Many thanks to our donor — the non-profit organization Music is the Foundation (mightyukeday.com/mitf/)