MP3 Player
Quick and easy storage for books, music, and more!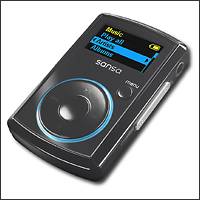 MP3 players allow the user to play music, podcasts and so on anywhere. Music is easily stored and managed on the MP3 player, including skipping tracks or, on some models, arranging playlists.
Plays music in MP3, WMA, secure WMA, Ogg Vorbis, FLAC plus audio books and podcasts.
Memory card slot for capacity expansion or preloaded cards; microSD/microSDHC card to expand the storage space for your library-music, audio books, podcasts
Rechargable battery lasts up to 15 hours.
Checkout: 21 days — Available for all ages