Discovery kits: Makey Makey Kit
Circuits, Computers & Engineering -- Transform an everybody object into your own personal computer interface!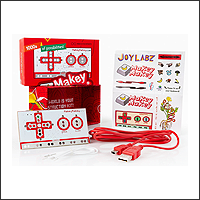 Checkout: 2 weeks by patron who is 18 years or older
By mimicking a keyboard and mouse the Makey Makey lets you control any computer program with everyday objects. Discovery Kits empower kids to see themselves as scientists, engineers, creators, and makers. Inspired by both STEM (Science, Technology, Engineering, and Math) and the Maker Movement, each Discovery Kit includes a hands-on experience to encourage curiosity, learning, and experimentation.
Kit includes
Makey Makey Invention Kit (1 circuit board 6 white wires, 1 USB cord, 7 alligator clips),
Instruction sheet
"20 Makey Makey Projects for the Evil Genius" by Aaron Graves
"Makey Makey" by Sandy Ng
Kit made possible through support of the  Institute of Electrical and Electronic Engineers (IEEE) – Region 4 and  Science Kits for Public Libraries (SKPL)