Penworthy STEAM to Go! All about magnets kit.
Learn about the fascinating powers of magnets.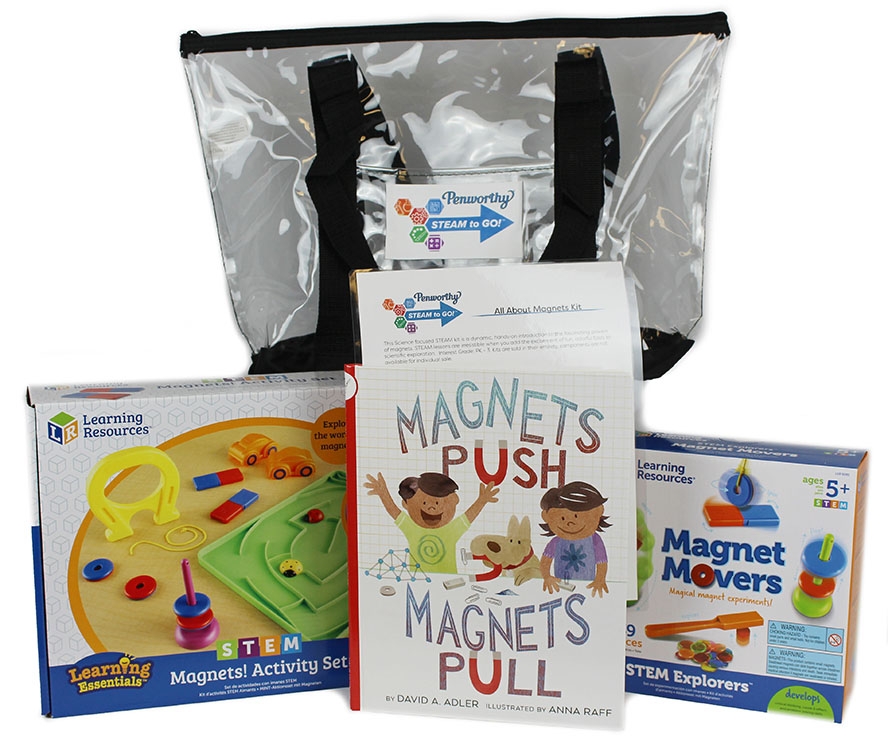 Checkout: 2 weeks by patron who is 18 years or older
All about Magnets
Kids will be pulled toward this Steam kit with it's hands-on introduction to the fascinating powers of magnets. STEAM lessons are irresistible when you add the excitement of fun, colorful tools to scientific exploration.
Interest Grade: PK – 3
Contents
Magnets push, magnets pull / by David A. Adler
STEM explorers magnet movers set (30 chips, 1 wand magnet, 1 horseshoe magnet, 1 bar magnet, 1 post magnet, 2 magnetic rings, 2 magnetic balls, 1 activity guide),
STEM magnets! activity set (2 bar magnets, 2 magnetic bugs, 4 ring magnets, 1 horseshoe magnet, 1 magnetic post, 2 snap-on cars, 1 tray with maze, string),
10 double-sided activity cards,
1 comprehensive activity guide).
Kit made possible through support of the  Institute of Electrical and Electronic Engineers (IEEE) – Region 4 and  Science Kits for Public Libraries (SKPL)