Literacy Booster Packs
Makes reading and math fun -- ready to go kits!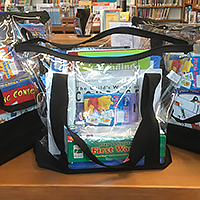 Literacy booster packs are geared to help your child get ready for third grade. These packs are for children ages 5-9 years of age who need help with learning phonics, sight words, strenghtening reading skills, and comprehension skills.
Kits include:
Topic — Either Math or Reading
Games — make learning fun
Workbooks — worksheets you can use
Books — classics and new titles you will soon love
Checkout: 21 days — Available for all ages