Electric Guitar
Our thanks to our donor Music Instrument Swap for making our lending Guitar program possible!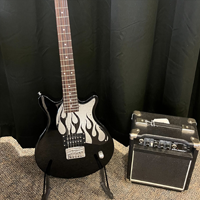 Checkout: 2 weeks by patron who is 18 years or older
According to the Los Angles Music Teachers Association, there are several advantages to learning to play the electric guitar: 
Electric guitars have lighter gauges, thinner necks, and smaller bodies, so they are not only easier to carry around but they are also easier to play than their acoustic counterparts

Since the pickups and amplifier project all the sound, the strings are easier to learn.
To take advantage of this lending program, place a hold on the instrument.  When the item arrives at the library, you will be contacted about pickup.  Our kits include:
One guitar
Speaker/Amp
Carrying bag
In addition we have library resources to help you learn — from quick lesson books to books for kids to online materials.  Give it a try and start making music today.
Many thanks to our donor — the Music Instrument Swap and Shawn VanSteeland (musicinstrumentswap.com)