Cricut Maker Machine
From cardstock to vinyl - cut all sorts of artistic projects!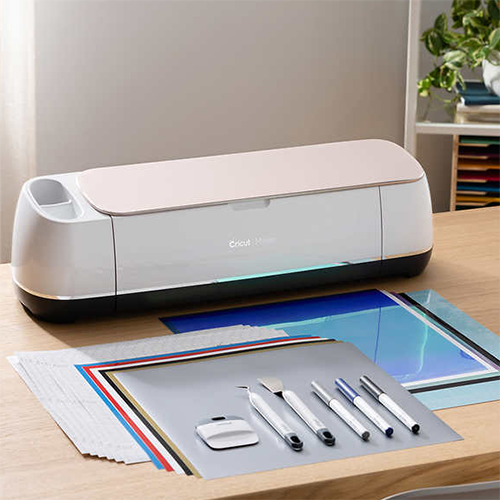 Create all sorts of artistic projects with our Cricut Maker Machine!
What is a Cricut Maker?
The Cricut Maker is an electronic cutting and drawing machine. Designs can be created on your computer or tablet, which then can be cut or drawn into material such as paper, cardstock, vinyl, and other types of materials (at the library we will only allow for the cutting of paper, vinyl, and select low-shed fabrics). Cut vinyl items can be applied to a variety of surfaces like glass, laptops, or in some cases waterbottles, and paperstock can be used to make greeting cards and other paper crafts.
How can Patrons use it?
Patrons will first need to create an account in the Cricut Design Space app by visiting https://design.cricut.com/, which is free for Windows, Apple, and Android devices. They will then need to log into their account at the library (either via a mobile device or a library computer) to be able to access their file(s).  Cricut-trained library staff members will need to see the art being cut before an item can be sent to print to ensure it is compatible with our machine. A library staff member will then send the job to print, which can sometimes take up to 20 minutes to cut depending on the complexity of the project. Print jobs may be declined at the staff members' discretion.
Items brought in from home occur no printing fee. Materials can be purchased from the library at the following rates:
Paper & Cardstock
12″ × 12″ Standard Cardstock – $.50/sheet

12″ x 12″ Speciality Cardstock (Glitter, Foil, Etc) – $2.00/sheet
Sticky Permanent Vinyl & Iron-on Vinyl
12″ × 12″ Standard Permanent Vinyl -$2.00/sheet

Iron-On Vinyl – $3.00/sheet

12″ × 12″ Speciality Vinyl (Glitter, Foil, Glow, Etc) -$4.00/sheet
Availablity for colors/materials are be limited depending on what we have in stock, please call ahead if you are looking for something specific. It is best to bring in your own materials.
Cricut Maker Training and Machine Use Scheduling
Library staff will be available on Thursdays from 11am – 4pm to help train those that have never used a Cricut Maker before, or assist those that have a project they would like to cut. You will need to understand how to use Cricut Design Space app and the functionality of the Cricut Machine before you can use it in the library.  Schedule your Cricut Creator Session here. (Sign up instructions)