Citizen Scientist : Monitoring Air Quality
Collect data on air quality to help scientists and your community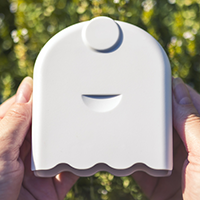 Checkout: 2 weeks by patron who is 18 years or older
This air quality monitoring kit helps you collect data about microscopic air particles called "particulate matter". Large or numerous particles can be unhealthy to inhale. Data from the AirCasting app and AirBeam instrument are relayed to the online map where you can better understand the quality of the air you breathe. People have used this to satisfy their curiosity about air quality, make behavioral changes, and even mobilize policy responses. The app, AirBeam and map comprise HabitatMap, an environmental technology non-profit platform.
Materials included in the Kit:
AirBeam 3 air quality monitor and charger
Samsung Galaxy Tablet A, preloaded with AirCasting App
Also required:
Find your data and data from other participants on the AirCasting online map: aircasting.org/map. Use community resources on the Aircasting website to understand the data you record and how to improve the quality of the air you breathe including https://aircastingactions.org/ .
Before you return the kit, please complete the survey for Citizen Science Kit Feedback (https://scistarter.org/library-surveys). Completing this survey is also an act of citizen science! Your contribution will help us improve the kits and develop new resources.
Kit made possible through support of the  Institute of Electrical and Electronic Engineers (IEEE) – Region 4 and  Science Kits for Public Libraries (SKPL)