Computer Access Bundle
Includes laptop and hotspot -- productivity and access -- ready to go!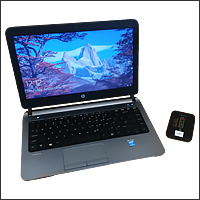 Checkout: 2 weeks by patron who is 18 years or older
Computer Access Bundles (CABs) help patrons that need computer access beyond the hours of the Library and do not have bandwidth at home or for patrons that have home computers but do not have laptops for times they need a mobile computer for presentations, attending a study group, working with local organizations, or making home visits., in the park, etc.).
14 day checkout — must be 18yr or older.
CABs include:
1-HP ProBook 430 Laptop. Windows 10 Pro (64-bit), including Windows Defender
Microsoft Office 2010 (Word, Excel, Publisher, Powerpoint)
Chrome & Firefox internet browsers
1-Coolpad Surf Hotspot to provide T-Mobile Internet Access