Discovery Kits: Botley 2.0
Computer coding and robotics -- Great way to introduce coding and challenging enough for older kids!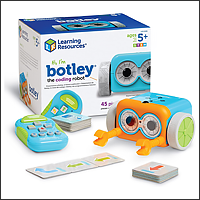 Checkout: 2 weeks by patron who is 18 years or older
Botley 2.0 is a great robot to be used by a wide range of ages. It makes coding so easy that kids as young as 4 years old can solve some of the challenges included in the Activity Guide.  Older kids feel comfortable experimenting with Botley and on their own will increase the difficulty in challenges to suit their abilities.
Botley the coding robot 2.0 is an educative, interactive, screen-free toy perfect for introducing kids between the ages of 5 – 8 to the basics of coding. With Botley 2.0, children can begin understanding coding concepts such as loops, if-then logic, and many more by playing several fun-filled interactive games.
Having fun with Botley is a great way to keep your kids engaged without having to worry about all the disadvantages that accompany prolonged screen time. Botley provides screen-free coding challenges for your kids to learn much needed coding skills.
Discovery Kits empower kids to see themselves as scientists, engineers, creators, and makers. Inspired by both STEM (Science, Technology, Engineering, and Math) and the Maker Movement, each Discovery Kit includes a hands-on experience to encourage curiosity, learning, and experimentation.
Kit includes
1 Botley 2.0 robot

Instruction booklet

1 remote programmer

2 detachable robot arms

40 coding cards, 6 boards, 8 sticks, 12 cubes, 2 cones, 2 flags, 2 balls, 1 goal

5 AAA batteries

"Hello Ruby: adventures in coding" by Linda Liukas
Kit made possible through support of the  Institute of Electrical and Electronic Engineers (IEEE) – Region 4 and  Science Kits for Public Libraries (SKPL)