AmpliVox portable speaker
Trying to reach a wider audience with your voice? We've got what you need!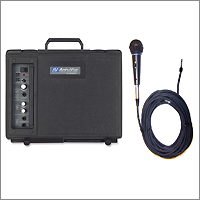 The AmpliVox portable speaker / microphone connects via included 3.5mm Aux port, and can utilize any other type of wired microphone that connects with the same type of cable. This powerful speaker has adjustable volume controls, and can be used either plugged into a wall socket or with the included battery pack. Battery life is good for 4+ hours, but should be charged for 4 hours beforehand.
Checkout: 2 weeks by patron who is 18 years or older