Welcome Spring & Celebrate Reading with these activities during the month of March!
Guess this Book – March 1 – 31 – Adults, can you "Guess this Book"? We've stuffed pages from a damaged book in a guessing jar. Guess the title and the author from just what you can see! Winner announced April 1!

Tiny Book Art Show – March 1 – 31 – Stop by the library to see all the wonderful tiny pieces of art created by members of our community. Our theme is "Best Books" – each piece depicts a scene from the Artist's favorite book. Vote on your favorite for our "People's Choice Award"!
Leap into Science: Balance Family Workshop – Monday March 21* @ 6:30pm & Tuesday March 22 @ 11am – Children ages 4-11 and families explore the science of balance by listening to a story then testing various activities; balancing with their bodies, and creating balanced kinetic sculptures.
*Monday's workshop requires registration.
The Ukulele Kings LIVE! – Thursday March 31 | 6pm – 7pm – Shake off your late-winter blues and enjoy the aloha spirit of The Ukulele Kings, a fun and involving all-ukulele trio featuring clever originals along with select covers you never would have expected to hear on the uke! All ages.
Take-Home Craft – Friday March 18 – Paint-a-Bookend craft– Create a bookend to make your bookshelf at home unique!
Come play a game with us at the Library!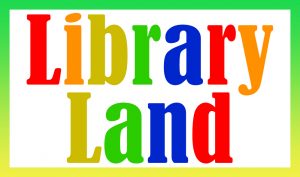 Play Library Land!  In-Library or At-Home Options — March 1-March 31

Kids from birth to 6th grade can play this game and engage in fun challenges! Explore the library when you visit in person or play the game at home and pretend — you'll win an instant prize for trying the challenges and a FREE book when you complete the game!  Get your game card online below, or at the library. Start your adventure today!
Library Land Printable Game Boards – Ages 0-K
Printed versions also available at the library!
Library Land Printable Game Boards – Grades 1 – 6
Printed versions also available at the library!
Treasure Hunt — March 1 – March 31
Ahoy matey, you found the treasure map! Follow the clues to secret locations in the library during March is Reading Month (March 1st – 31st). A tasty "treasure" will be awarded for completing the hunt, and your name will be entered for a chance to win one of our two grand prizes! Use the back of this bookmark to log your clues and the letters to decipher the password. No mobile device?—no problem! Patrons can borrow the Treasure Hunt Phone from the circ desk to play. This Treasure Hunt is geared towards 7th graders to adults.