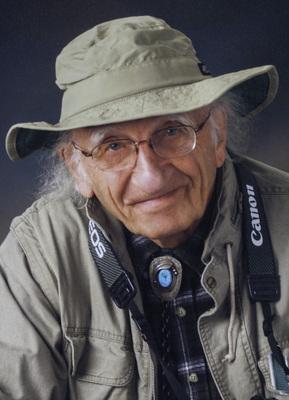 The Ernst Floeter Photograph Collection
Ernst Floeter was a prolific photographer, well known in and around Grand Ledge, where he spent much of his adult life. We now have the privilege of hosting a large portion of his photographic collection, thanks, to generosity of the Floeter Family, the continuing volunteer and financial support of the Grand Ledge Area Historical Society, and a grant from the Eaton County Historical Commission.  We would also like to thank local historican Bob Doty for his help in reviewing the negatives to creative a wonderful collection to document our community.   Displayed in this collection are many local events and festivals, with a timeframe ranging from the early 1960's to 2007.
The collection is located in the Local History portion of our website, here.
More about Ernst....
Born in Germany, and conscripted into military service in 1943, the process of Ernst's self-described "liberation" to America started during the Allied invasion of Normandy. Having spent some time as a prisoner of war in the US, he returned to Germany after the end of the war, but would eventually make America his home. In 1960, he started his photography business in Grand Ledge, which would become a prominent fixture of the community.
Ernst wrote about his experiences in his 2014 memoir, and you can check out his book from the library…
Thanks to the Historical Grant Program from the Eaton County Historical Commission, we are now able to host Ernst's photograph collection and make it accessible to Eaton County residents and users worldwide.  The Historical Grant Program's purpose is to award public funds, budgeted by the Eaton County Historical Commission, to organizations within Eaton County to promote, preserve, or restore the heritage of Eaton County, Michigan.

Grand Ledge Area Historical Society
The Grand Ledge Area Historical Society formed in 1975 in response to the nation's bicentennial. The Historical Society is a nonprofit that is operated by a 12–14-member board of directors whose purpose is to preserve materials and information relating to the history of the Grand Ledge area, to promote a continuing interest in the area's history through events open to all community members, and to perpetuate the spirit of pride in our historical roots.