Michigan Legal Help
Learn about your legal problems and get ready for court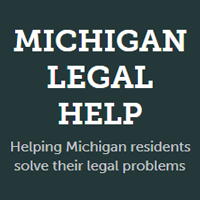 Michigan Legal Help is for people who are handling their legal problems without a lawyer. It can help you learn about your legal problems and get ready for court. There are many Do-It-Yourself tools to help you create court forms. This website does not give legal advice, and it is not a substitute for having a lawyer. If you need more help, search the website for a lawyer, community services, or a Self-Help Center nearby. The website does not cover all areas of law, but they add new topics all the time.
Looking for the Do-It-Yourself Divorce Toolkit?
Michigan Legal Help has worksheets, and an interactive website that can help you fill out divorce forms and figure out custody and parenting agreements.  Also includes information on how to find a lawyer and how to contact the courts and agencies you need.
Looking for Immigration Resources? 
ImmigrationHelp  is a legal aid nonprofit founded at Harvard.  They provide free legal help for work permits, DACA, and citizenship. They  also have a comprehensive database of educational guides that explain immigration process.