Citizen Scientist : Exploring Biodiversity
Empowering citizens to record biodiversity, meet other nature lovers, and learn about the natural world.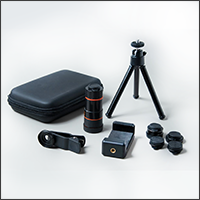 Checkout: 2 weeks by patron who is 18 years or older
Biodiversity is an important marker for an ecosystem's health. Healthy ecosystems ensure natural sustainability for all life forms and can better withstand and recover from a variety of disasters.
Use your smartphone and clip-on lenses to take and share detailed pictures of nature and help create a living record of life on Earth. By recording and sharing your observations on iNaturalist, you'll create research-quality data for scientists working to better understand and protect nature.
For more information learn about at sciStarter.org
https://scistarter.org/library-kits/exploring-biodiversity
More information from iNaturalist — tips about making good observations and using the app
Kit includes:
Clip-on lens set for smart phone
Phone holder (Usable for most iPhone, Samsung, Android and most Smart phones)
Tripod
User manual
Before you return the kit, please complete the survey for Citizen Science Kit Feedback (https://scistarter.org/library-surveys). Completing this survey is also an act of citizen science! Your contribution will help us improve the kits and develop new resources.
Kit made possible through support of the  Institute of Electrical and Electronic Engineers (IEEE) – Region 4 and  Science Kits for Public Libraries (SKPL)